19
Nov
Hire The Best Sandwich Catering Services In Toronto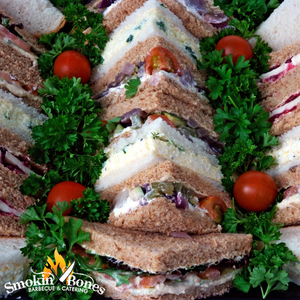 These days, planning an office party is no small task. You have to consider the size of your company, the type of event you're throwing and, most importantly, what's going to be good enough for your employees. But what if we told you that you don't have to worry, thanks to our catering services in Toronto?
Whether it's a lunch meeting, a catered event, a company holiday party or a company barbecue, sandwich platter catering services from Smokin Bones BBQ Catering Services in Toronto is a convenient and cost-effective option for your next office party.
What Is Sandwich Catering
Sandwich catering is a term that has been around for a long time. It used to be a great alternative for those who wanted a lunch alternative to the same old pizza and chips.
Today, sandwich catering in Toronto has evolved to be an excellent option for people of all kinds.
From BBQ chicken sandwiches to smoked salmon sandwiches, if you want to treat your office to a tasty meal or host a "grab and go" lunch at the office, Smokin Bones sandwich catering can offer you a wide range of choices. And of course, you can always count on it to be delicious!
With our sandwich catering services, you will find some mouthwatering sandwiches that will entice your taste buds and will make you want to come back for more. If you are a Sandwich Catering Services fan or someone just trying them for the first time, Smokin Bones is the company for you.
Advantage Of Sandwich Catering For Businesses In Toronto
Businesses can benefit from sandwich platter catering for many reasons. In addition to convenience, companies can save money by using this type of catering service. Sandwich platter catering allows businesses to order in bulk and keep their expenses low.
Opting for sandwich platter catering is a way for companies to offer employees and guests a variety without purchasing and preparing an entire meal. Sandwich platter catering is also an option for summer BBQs and holiday events when food must be served outdoors. It is convenient and portable, making it great for meal prep in advance.
Benefits Of Sandwich Catering In Toronto
Sandwich platter catering services are perfect if you're hosting a corporate event and need a food option at a low cost.

The nutritious and tasty meal leaves employees fresh and energized to get back to work after a quick lunch break.

Builds teamwork through getting workmates out of their desks and socializing over sandwiches and salads.

Usually, sandwich catering is considered less expensive than having full-service professional caterers come in, which leaves more budget for additional touches like dessert tables, floral centrepieces or upgraded beers and wine.

Save time and energy by letting a catering service prepare everything. This can be especially helpful if you're hosting a significant event since your time will be better spent interacting with guests.

It can also prove convenient when there's limited time — guests can grab a sandwich while receiving kind words from friends and colleagues.

Avoid the hassle of cooking and cleaning up. With catering services, you won't have to worry about the clean-up!
The Best Sandwich Catering In Toronto
Sandwiches are simple, delicious, and convenient. In addition to being delicious and convenient, sandwich platters are also practical for all occasions. Whether you're planning an office team-building lunch or a holiday party, you can't go wrong with sandwich catering. They're tasty, multi-functional, and can be configured to please just about any taste. Contact Smokin Bones today for a quote!