19
Aug
Make Your Next Event Spectacular With the Best BBQ Catering Services In Toronto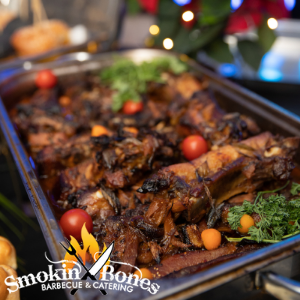 With its mouthwatering menu and talented staff, Smokin Bones BBQ Catering is the perfect choice if you are looking for the best catering company in Toronto. Our team will help you make your next event spectacular. Whether you're hosting a small get-together or an upscale corporate event, our BBQ catering services are sure to impress guests. We guarantee to give you the highest quality of food and service at the most affordable prices. Even if you're not a BBQ lover, you'll soon become one after eating our delicious tender smoked meat and succulent sides. Read on to see how Smoking Bones can offer you the best BBQ catering services in Toronto for your next event.
The importance of catering
Catering is a critical part of any event. It enables the food to be managed professionally and organized with the highest eating standards possible. From on-site cooking, preparing, packaging and serving all your guests' meals to ensuring beverages are stocked for consumption or clean up after an event; our barbecue catering team will ensure all your guests are taken care of appropriately as they receive their meal prepared just as you ordered it.
Why BBQ Catering For Toronto Events
BBQ catering is one of the most popular catering options chosen by various companies, restaurants and weddings. A BBQ catered event is often highly anticipated for the taste and aroma and because the events bring in a lot of fun and interactive moments. That is why it is important to get your hands on the best BBQ catering services in Toronto to ensure that your event does not go unnoticed. Contact Smokin Bones to inquire about our BBQ catering and event services in Toronto.
About Smokin Bones BBQ Catering In Toronto
Founded in 2005, Smokin Bones BBQ Catering started as a small family-run business. With the growing popularity of BBQ catering in Toronto, we kept expanding and now operate out of two fully licensed locations.
It is a well-known fact that the food at an event is the one thing that all your guests will remember. Therefore, it is vital that food is served in a sanitary and secure environment. At Smokin' Bones BBQ Catering we serve fresh, hot and tasty foods to ensure your guests are well taken care of. Each dish is prepared by our team of seasoned chefs and served by highly trained staff members.
Whether you are planning an indoor or outdoor event, we can help create the perfect menu for your occasion. We're equipped with some of the best smokers in the city and can accommodate various outdoor events for up to 1,000 people. If you are planning a wedding, birthday party or corporate function, Smokin' Bones has got you covered. We have worked on many types of events in Toronto and have over 20 years of catering experience.
Amazing Full-Event BBQ Catering Services

Reliable, Experienced and Affordable Company
Benefits of Hiring A BBQ Catering Company In Toronto
There are many benefits to hiring a catering company that specializes in barbeque cuisine for corporate BBQ events:
Our expert staff can set up and manage bars

You will have more free time because we do clean-up!

A great way to lure clients & employees during these tough economic times

We interact with every guest

Gourmet Barbecue Food by experts at Smokin Bones BBQ Catering tastes better than anything else.

Avoid awkward conversations when people ask where food came from
Hire Us For Your Next Catered Event
It is important to remember that there is a difference between catering and serving. The purpose of catering an event is to offer your guests with a selection of food and drinks, as well as all the utensils and serving plates necessary to enjoy their meal. This event catering concept offers you the ability to have a local BBQ catering company deliver your meals, including all the side dishes, meats, drinks and utensils without having to worry about preparing or cleaning dishes or tables after your next big event.
Smokin Bones is thrilled to be able to offer you the best barbecue catering at an affordable price and will work with your budget depending on what you need for your event – whether it's an outdoor ceremony or indoor dinner party. Simply can't decide if it should be pulled pork or brisket? We'll give you a variety of options to satisfy each craving (you'll no doubt enjoy every bite!).
Events are our specialty! If this article has piqued your interest, read more about how we cater events & weddings Toronto-wide or contact us today!