18
Jun
The Ultimate BBQ Catering Wedding Checklist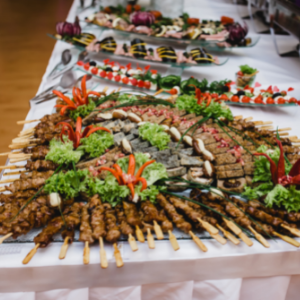 Congratulations on your upcoming nuptials! If you want to keep your outdoor wedding on the more casual side, hiring the best Barbeque catering services in Toronto is the smart way to go. Make your backyard wedding the talk of the summer with the help of Smokin' Bones, the best BBQ wedding catering company in Toronto!
A backyard wedding can be catered to your exact specifications. Intimate and casual, a backyard wedding can leave you with a beautiful night that your guests will remember for years to come. The right wedding catering company can do more than provide mouth-watering food. They can offer rental items and entertainment that can make your wedding reception just that much more memorable.
Smokin' Bones can work with you to plan the wedding you want. We are more than a barbecue catering service. We are a one-stop-shop for your next wedding or event.
What to look for in a Barbeque Catering service In Toronto
1. Quality of Ingredients and Menu Options
2. Food Presentation Style
3. Additional Service Packages
4. Budget
Quality Ingredients and Menu Options
At Smokin Bones, it's our job to ensure that the food served is superb. We only source the highest quality ingredients, produce, and meats. We pride ourselves on our melt-in-your-mouth barbeque.
Company favourite menu options include the Ranchhand Round up, the Original Southern BBQ, and the Platinum Package. This is just a shortlist of our prepackaged; we have menus to satisfy everyone's tastes and the ability to choose your menu a la carte.
Food Presentation Style
Are you hoping for an elegant, formal sit-down reception? Or were you hoping for more of a buffet-style dinner? Smokin Bones, a wedding catering company, can handle both. We can provide the traditional 3-course meal. We can also set up a buffet dinner. We have the equipment and experience for you to design the wedding that works for you.
Additional Service Packages
Smokin Bones barbeque catering services don't just start and end with food. We can offer full-service event coordination. Smokin Bones can hire entertainment, coordinate decor and lighting. We can help reserve the venue and source tents, tables, chairs, staff, and any party rentals required. Send an email to our team today to learn more!
Budget
Of course, choosing your wedding catering company will largely depend on your budget. That is why Smoking Bones offers menu options at different pricing levels and the option to build your own menu to really control the pricing.
We work with our sister company for event services to rest assured knowing that you are getting the best prices for your event.
Contact Our Team Today!
Smokin Bones BBQ Catering Services would be happy to work with you to create the wedding of your dreams. We have full-service event coordination packages to help you keep your wedding planning fun and stress-free. We can create a wedding catering package that will bring luxury and elegance to your wedding day. Contact us today to learn more or to get a quick quote!