11
Mar
Tips To Keep Office Catering in Toronto Affordable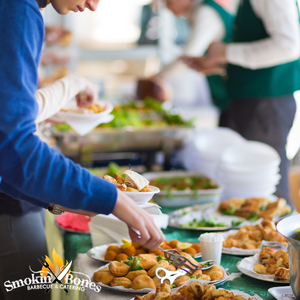 You might think that outsourcing for office catering in Toronto & nearby areas is going to break the bank, but it doesn't have to! In fact, many corporate caterers have a customizable catering menu to ensure you are paying for all that you need and nothing that you don't!
If you're in the market for a corporate caterer in Toronto, chances are you've been priced out of your budget, and you're having trouble finding a catering company that will give you the menu options you want at a price that works for you. We've got good news. With Smokin' Bones BBQ Catering, your next corporate function doesn't have to be an expensive affair!
The Advantages Of Using Corporate Catering
Deciding to hire corporate caterers in Toronto comes with many advantages, including saving you time, money and hassle. Any reputable office catering company in Toronto & nearby areas will deliver your food, set up, cook and clean up after.
Additionally, Toronto corporate caterers offer:
Specialized menus that allow for personalized meal planning
More efficient utilization of kitchen space
Specialized equipment that not every home has access to
Dedicated event managers to manage all aspects of your event
Liability insurance coverages and fees
Unlimited on-hand catering staff
Sustainable delivery and pickup options for your convenience
This is just a small list of the advantages of having a professional caterer handle food for your office lunches.
Keeping Your Office Catering in Toronto & Nearby Areas affordable
Office catering your upcoming corporate lunch can be an easy way to score points with your boss, but it doesn't have to cost you an arm and a leg! The following are a few tips to keep office catered lunch prices in Toronto down.
Choose Cost-Effective Menu Options
You probably have a lot of important questions to consider when planning your next office catering in Toronto. Of course, you'll want your guests to enjoy great food and drinks and to have a memorable time. But you'll also want to ensure that they won't be breaking the bank once they've left. With that in mind, you'll want to be smart about how much you spend and what types of food you order.
The bulk of your office catering costs will be dependent on the cost of the ingredients and the effort and time put in by your corporate caterer to prepare your food. Smokin' Bones offers affordable sandwich platter catering for companies in Toronto & nearby areas. Our sandwich platter catering is the perfect solution to affordable office catering in Toronto.
Opt For Buffet-Style Service
When it comes to keeping your office catering budget in check, choosing the right catering style is key. The truth is that opting for a buffet-style spread can help to keep your costs low, particularly for smaller gatherings, lunches and parties.
The beauty of buffet-style catering is that it allows you to sample a wide range of different foods without committing to a single course.
Cater the Food You Need
When preparing for a business catering event, corporate clients tend to order more food than they need. It is understandable that over-ordering happens - because the last thing you want is to be short on food for your employees. Unfortunately, over-ordering food is one of the easiest to rack up costs for office catering in Toronto & nearby areas.
While ordering the right amount of food is essential, another key factor is to choose items that will give you the most value for your money – meat and vegetable options being the most cost-effective. Cold cuts and cheese are a great choice, as are salads and sandwiches.
Talk to your corporate caterers about the best quantities and platters that offer the best bang for your buck. At Smokin' Bones, we are experts at helping our clients keep their office catering costs affordable. Contact us today to learn more about our sandwich platter catering or our office catering in Toronto & nearby areas.