12
Sep
Tips to Relieve the Stress of Cooking Thanksgiving Dinner
The holiday season is presented as a time of relaxation and joy. Still, those who take on the task of cooking and organizing Thanksgiving dinner are usually left with the stress of ensuring everyone has a good time and enjoys their meal. The feat of cooking a Thanksgiving turkey can take anywhere from 1.5 hours to 5 hours, depending on its size. And unfortunately, the more guests you want to invite to your Thanksgiving dinner in Toronto, the more time, effort, and stress go into putting together a memorable meal.
Luckily, if you want to host Thanksgiving dinner in Toronto, you don't have to take on the burden of being stuck in the kitchen for hours on end. Instead, you can cater your meal from the top-quality catering service in the Greater Toronto Area, Smokin' Bones. With four Thanksgiving menu package options and a la carte additions available, you're destined to put together the perfect meal and rid your Thanksgiving of the stress.
Here are some tips to streamline your Thanksgiving dinner in Toronto.
Ask for RSVPs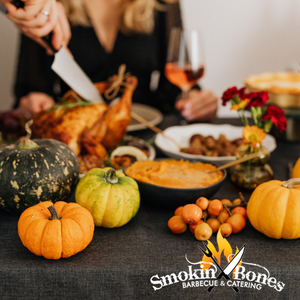 Around the holidays, events held at home don't require RSVPs because the people are close family and friends. But with the busy nature of the holiday season, asking invitees to confirm whether they will be attending helps you get an accurate count of how many people you will be serving.
Set a Budget
Determining a budget before you start your planning will guide all of your spending decisions, from meals to entertainment and everything in between. At Smokin' Bone, our Thanksgiving turkey meal options range from $21.95 to $29.95 per person, so you choose from cost-effective Thanksgiving menu options that deliver on quality and taste.
Ask About Food Restrictions
The last thing you want at your Thanksgiving dinner in Toronto is an allergic reaction or for a guest to not be able to have sufficient meal options. A detailed understanding of your guests' food restrictions will help you prepare meals with ingredients your guests can enjoy. While Thanksgiving turkey is a holiday staple, as is cranberry sauce, these are both relatively common allergies, so before you order these menu items from your Thanksgiving catering service, make sure that there are no anaphylactic allergies to them.
If one or more of your guests have a food allergy or dietary restriction, Smokin' Bones offers alternatives you can order as a substitute.
Disposable Plates & Cutlery
Once you get your Thanksgiving meal on the table, only a portion of the stress of holiday meal preparation is eliminated. The rest of the hassle comes with washing dishes and clean up - a time-consuming but seemingly inevitable part of any event. By serving your meals on disposable plates, you can save yourself the time, trouble, and wrinkled fingers of dishwashing. You can opt for fancy and decorative plastic dishes and disposable cutlery that still look elegant on the table.
Hire a Catering Service
A reputable catering service like Smokin' Bones will save you an immense amount of time planning and cooking for your Thanksgiving dinner. You can still get a Thanksgiving turkey but without any of the stress.