13
Oct
Toronto Office Christmas Catering Done Right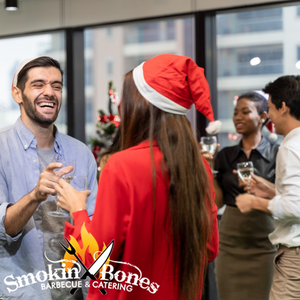 Are you planning on throwing an office Christmas party? Are you looking for catering services to help you throw the best office Christmas party ever? Then you're at the right place! Over the years, we've provided top-notch service to our clients. From small to big events, we've catered to them all. Our clients include companies like Rogers, KPMG, Deloitte, Sunlife Financial, Deloitte, CIBC, Skyline, IBM, Cineplex Entertainment, and many more.
Hiring a BBQ catering company in Toronto to cater your office Christmas party is an excellent way to create those memorable moments with your employees. When it comes to office Christmas party catering services in Toronto, nobody is better than us. No matter what your requirements are, we have what it takes to deliver on your expectations.
Hiring The Best Catering Services In Toronto
The idea of hiring catering services for your office Christmas party can be intimidating. You want to throw your employees an event they won't forget, and that makes them feel appreciated while at the same time sticking to your party budget. That's where a BBQ catering company like Smokin Bones comes in.
We are not just another Toronto BBQ catering company. We are on a mission to create better events so your guests can focus on having fun. Our deliciously fresh food will have everybody raving about your party for years to come.
We have a reputation for:
being on time,
setting up quickly and
leaving no mess behind.
We will make your special events turn out the way you had planned them, with delicious food that is also healthy.
The Food
Buffet
From standing rib roasts to juicy steaks, our bbq is tender and delicious every time. We also provide premium quality bbq side dishes along with our famous desserts.
Individual Box Meals
Enjoy individually packaged Christmas boxes that include a home-cooked meal with all the fixings! We offer five individually packaged team meal combos that include our signature BBQ meats.
Proper Staff
The staff hired by a catering company can make or break a party. At Smokin Bones BBQ Catering, our team of foodservice professionals are punctual, friendly, and are fully trained to cater all kinds of events.
We have been in the catering business for over 30 years. Our experience has made us the most preferred provider of corporate catering services in the Greater Toronto Area. Our team is a group of highly competent individuals that excel in planning and executing catering events.
Our BBQ & Catering Holiday menus offer delicious choices that will satisfy even the pickiest taste buds. Contact Smokin Bones today to schedule our office catering services in Toronto.