5 Tips For Planning a Successful Catered Corporate Picnic
Summer is quickly approaching, now is the time to start planning for your catered corporate picnic for your business, to celebrate all of your company successes, and the warm weather! Whether you are looking to plan an outdoor barbeque, luncheon or company picnic, knowing what to plan for and what to put on the menu is super important for a successful outdoor, food loving, experience.
Here are the top 5 tips you will need to know to cater your next corporate picnic:
1. Order remarkable food from the right catering company
When thinking about your menu for your next picnic party, picking the right food is number 1. Everyone who will attend may have different taste palates as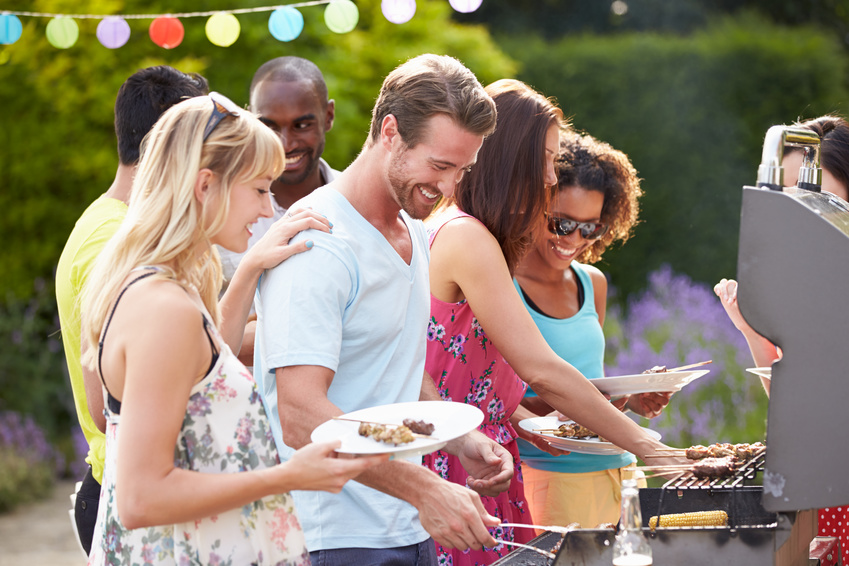 well as dietary restrictions. Ordering a variety of tasty barbeque munchies is essential in creating a delicious picnic menu.
Firstly, you need to pick a company that can meet the needs of all of your staff, a company that can do barbeque food and at the same time meeting everyone's dietary limitations (vegan, vegetarian, kosher, halal or gluten-free). Also, ensuring there are many tasty options on the barbeque and sandwich platters are key to make sure everyone on the guest list leaves your party raving about how amazing the food was! A catered corporate picnic or luncheon without good food is no party at all! And of course you can't forget the best in desserts. Your party guests must have something sweet and yummy to end the night with. Choosing the best food with your local corporate catering company will ensure that you have a tasty food experience for all. If you're looking for some outdoor cookin', sandwich platters or traditional BBQ fare then Smokin Bones BBQ Catering would be a great option to cater your event.
2. Choose the right date
Choosing the right date is key in a successful, highly talked about, catered corporate picnic. You want to make sure that all of your employees can attend with no rearrangements needed. Since you are treating your staff to the very best in food and atmosphere, its important that everyone can be there to share in this experience. You want to confirm that the date you choose is the most suitable for everyone to attend and to then be able to save the date for next year! Perhaps finding a day during the week would work best. Setting it up during work hours will pretty much guarantee that everyone can attend and since it isn't a weekend it will help to find the best place available at a lower cost to you and your company!
3. Find the right venue
Finding the right atmosphere is also important to confirm you are able to have the best staff barbeque party! Working with the right catering company is a sure fire way to find the right spot for your gathering. Make sure you find out what your chosen catering company will provide, barbeque, tables, chairs and more. From there you will know what type of place you need to book to meet all of your needs. It can be your office, a park, or renting a venue of your choice. If you are looking for an all-inclusive option, Smokin Bones BBQ Catering does it all! You may even want to consider finding a locale that becomes your yearly destination for a fun seasonal party for all of your crew. This would make things more efficient year after year for planning your annual catered corporate picnic!
4. Entertainment is always a plus
Setting the tone for a fun, talked about, catered corporate picnic can be done simply with good entertainment! Team building games, soulful tunes and adding a trampoline perhaps can bring your team together in a relaxed and exciting way! Depending on how many people are on your guest list, a band or DJ could really get them dancing, singing and feeling good. To ensure your staff party is successful, planning a little fun diversion can go a long way!
5. A reliable catering company to match your budget
It is important to find a reliable catering company to match your company's budget, while making sure that your catered corporate picnic is a hit with nothing falling through the cracks. Your goal is to have a successful party for your employees, with more to come every year, and with this, a realistic budget is needed. Things can definitely add up, which is why it is vital to find a catering company that will work within your monetary plan, and ensure that they come on time, help with set up, clean up efficiently, provide great food, all the while keeping within your company's financial means.
With warm sunny days upon us, these 5 tips above will help you to book the best in party, fun and food, while celebrating your company's accomplishments and endeavors! Get in touch with Smokin Bones BBQ Catering for your next catered corporate picnic, staff appreciation barbeque or corporate luncheon, today!