Order Thanksgiving Catering from Smokin' Bones
With Thanksgiving weekend fast approaching, it is time to plan ahead and order Thanksgiving catering from Smokin' Bones. If you prefer to spend the long weekend with loved ones or simply binge-watch your favourite TV show rather than standing in front of a stove for hours, consider the new turkey dinner catering service offered by Smokin' Bones Barbeque & Catering!
We aren't a big box store. We seek inspiration in the classic image of your grandmother serving and cooking delicious home style meals for the entire family. If you choose to order Thanksgiving catering from Smokin' Bones, you will get all of the traditional finishes without the hassle of cooking (and don't forget the dishes!). We offer delivery within the GTA, as well as Oshawa, Peterborough, Burlington, Richmond Hill, Vaughan, and even Muskoka's cottage country.
How to order Thanksgiving catering from Smokin' Bones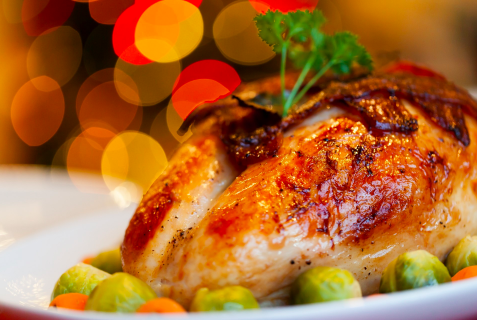 If you decide to order Thanksgiving catering from Smokin' Bones, your perfect turkey dinner is one online form away. Simply pick your sides, fill out an online form on our website, and specify a delivery date. With our selection of turkey dinner menu packages, we offer all of the traditional finishes without the hassle of cooking:
The "'Tis The Season" package, featuring sliced roasted turkey with sage & apple stuffing, will leave your family members full and happy.
Prefer chicken instead of turkey? No worries, we have a "Feast of the Season" package with herb and lemon-scented roast chicken just for you!
Want a whole turkey with traditional apple and sage stuffing? Go for the "Season of Giving" package and get baked holiday ham with raisin and rum sauce on top of it!
Substitute holiday ham with brisket of roast beef with red wine jus, and order our "Season of Joy" package.
Want to try something different? Opt for our "Holiday Sandwich Platter", which includes turkey breast with sage & apple stuffing sandwiches, as well as roast beef, black forest ham, tuna sandwiches, and others.
All the packages come with your choice of salads, our signature Giblet gravy, herb roasted or Yukon gold mashed potatoes, buttered green beans or glazed carrots, freshly baked dinner rolls, port wine cranberry chutney… All the classics you cherish so much!
Complete dinners from Smokin' Bones get rave reviews for quality, taste, service, and overall experience
According to our valued customers, Smokin' Bones seem to make miracles with the splendid menu, outstanding food and always smiling staff, making every single event a great success and a night to remember. If you order Thanksgiving catering from Smokin' Bones, you will get "great service, great food, and great fun" – all in one!
If you'd rather opt for a full service sit down catered Thanksgiving meal, we can do that too!
Another option is full service Thanksgiving meal catering offered by our sister company, Catering Magic. With a full service catered turkey dinner, hosting an event or dinner party has never been easier. We take care of everything: tables and chairs, wait staff, full bar service, plates and cutlery, entertainment, clean up… All you have to do is sit down and enjoy your time with loved ones (and your food, of course!).
These days, there is a broad array of choices for a full service event, but to truly stand out and make your party a memorable one, you should think outside the box. That's why you should opt for classic comfort foods - the meals our mothers and grandmothers used to serve every Thanksgiving dinner. Simple, yet satisfying fully serviced home-style turkey dinner will leave your guests relaxed, full, and happy.
Choose Smokin' Bones for a hassle-free Thanksgiving
With a broad range of dinner options to choose from, Smokin' Bones can make your Thanksgiving celebration a memorable one. We've got you covered, whether you prefer traditional whole roasted turkey with apple and sage stuffing or sliced turkey, or something a little different, like roasted chicken or a sandwich platter! Want a relaxed evening with everything taken care of? Go for a full service catered Thanksgiving meal from Smokin' Bones! Visit www.smokinbonesbbqcatering.com for a full description of menu options and services provided.
Remember that planning a holiday party or dinner is not a last-minute quick-fix. With ordering full holiday dinners or full service catering services, it's important to plan ahead - order Thanksgiving catering from Smokin' Bones early, so we can get your delivery ready on time. Simply fill out our online form and get ready to have a Thanksgiving to remember.