22
Nov
Gift Your Team a Delicious Meal with Christmas Catering Services
Christmas is right around the corner, and the question of what to get your employees for the holiday season is quickly approaching. If you're unsure how to show your staff that you appreciate them, choose to gift them a delicious meal with a Christmas dinner delivery in Toronto. Food is a universal love that brings people together, especially during the holidays, and Christmas catering is one of the easiest ways to show your team how much you value them. At Smokin' Bones, we offer nutritious and tasty catering services, so you can give your employees a well-deserved lunch break that can power them through the rest of the workday.
Here's why you should gift your team with Christmas catering services.
Impress Your Team With Delicious Food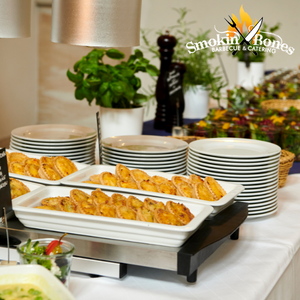 When deciding what to get your staff for the holidays, it can be challenging to decipher what each person likes and dislikes without asking them directly. You could try gifting your team a generic gift card, but it can get lost in the shuffle or forgotten about. By planning a Christmas dinner delivery in Toronto, you can give your employees something you know they'll love and cherish. At Smokin' Bones, our corporate catering offers a variety of foods, customizations, and dietary needs and preferences, so you can ensure everyone has something to eat and enjoy.
Show Them How Much They're Appreciated
Although a small gesture like a card or mug may be appreciated by your employees, only some people like the same things, and your gift can come across as aimless instead of a thought-out idea. Work days can be long and challenging, so a break in the day to eat a healthy and filling meal is much appreciated. Providing your employees with Christmas catering can go a long way. It can improve organizational culture, boost employee morale, enhance productivity, and help retain employees by showing them they're appreciated. At Smokin' Bones, we offer a variety of holiday catering packages, including the Season of Joy, Season of Giving, Feast of the Season, and 'Tis the Season. These holiday packages are handled with care and passion so that your employees will taste the difference in a high-quality meal.
Dedicated Socializing Time
What better way to have dedicated socializing time than giving your team a meal where they can chat, eat, and bond over their lust for food? Studies have shown that socializing and bonding with coworkers significantly improves the workplace environment. Surveys show that 70 percent of employees value friendships at work, and it contributes to overall happiness. Allow your team to bond, socialize, and eat delectable foods with Smokin' Bones catering services.
Give The Gift of Christmas Catering With Smokin' Bones
With years of first-hand experience and commitment to service and quality, Smokin' Bones is the ideal catering company in Toronto. Our team of experts always works within your budget while providing outstanding service, food presentation, and style with every plate.
For top-quality catering services that you can rely on, trust Smokin' Bones Barbeque & Catering.