11
Jan
Hire BBQ Catering Services For Your Next Corporate Event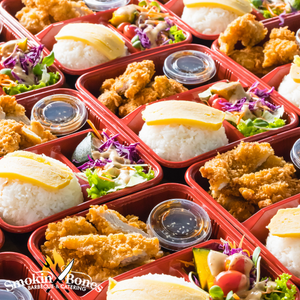 In the same vein as catering for weddings, BBQ catering for Toronto corporate events can be a really great way to impress your guests. Many business owners don't realize how much food is a part of their corporate events. From office parties and conferences to awards ceremonies and Christmas gatherings, food plays an important role in boosting corporate culture and morale. One way to ensure great food at your next corporate event is by hiring catering services in Toronto from a reputable company like Smokin' Bones BBQ Catering services to bring the high-quality BBQ you would expect at a wedding to an event.
How BBQ Catering Can Help Your Next Corporate Event
As a corporate catering services provider in Toronto, we know how stressful planning a corporate event can be. Many event planners are unfamiliar with the food service industry and attempt to plan the entire event themselves or choose one of the first vendors they find offering BBQ Catering Services in Toronto. That's why we've put together a few items and menu options to think about when planning your next corporate catered event.
The first thing you should do is determine what kind of event you're planning. Is it a lunch meeting at an office building? Then many corporate sandwich catering with salads may be the perfect solution. Is the event going to be held outdoors in the summer sun? Then think about having food delivered that is easy to eat without utensils, such as our corporate boxed lunches.
Corporate Sandwich Catering
When it comes to client appreciation lunches, corporate events, and employee gatherings, the variety of food matters. If you're looking for a casual menu that will allow your attendees to enjoy a meal that will enlighten their taste buds, sandwich catering is a perfect fit.
Our corporate sandwich platters are perfect for company lunches, whether you're planning a formal meeting or providing lunch for your team. Our extensive selection of ingredients and fillings allows you to customize a sandwich platter to meet the tastes of your employees or guests.
Our Corporate Sandwich catering menu includes sandwiches made with fresh ingredients for you to choose from. We offer everything from pulled pork to chicken and ham sandwiches. Whether you're after a classic style or something more modern and trendy, we've got what you need to satisfy your guests.
Corporate Boxed Lunches
When you think of a boxed lunch, you typically picture something thrown together last minute from whatever food items might be lying around in the office refrigerator.
At Smokin' Bones BBQ, our boxed lunches are anything but ordinary. Our boxed lunches are the ultimate on-the-go food option for your employees. And with our corporate services, we can make sure your employees get exactly what they want to eat. No messy plates or equipment to clean up after. Simply pick up the phone and order our corporate boxed lunches.
We consider our boxed lunches a cut above the rest. From the unique flavor combinations to the authentic ingredients, we believe that your employees will love this option for lunch on their break. Each corporate boxed lunch is prepared the day off by our professional chefs and double-checked for quality.
Whether it's a casual meeting in the office or a big presentation to potential investors, every business needs a good lunch option. To make sure your employees are well fed for the day, contact us to order our corporate boxed lunches or sandwich catering services for your next company lunch.