07
Oct
How to Celebrate Thanksgiving at Work with Catering Services
Like most special occasions that occur during the year, Thanksgiving is an important day to address with your team. Most people spend the lion's share of their year at work, engaging with co-workers. The amount of time shared with your colleagues comes very close to the amount of time spent at home with family and friends. To share your appreciation with your team, many managers and business owners say thank you around Thanksgiving with a shared lunch or dinner event honouring the team's hard work for the holiday. Smokin' Bones specializes in Thanksgiving catering in Mississauga, Toronto, and throughout the GTA. With our expertise, you can leverage office catering in Toronto to conveniently serve up a delicious workplace Thanksgiving.
Here's our easy-to-follow guide on leveraging expert catering in Mississauga and Toronto to celebrate Thanksgiving in the office.
Organize Your Guest Details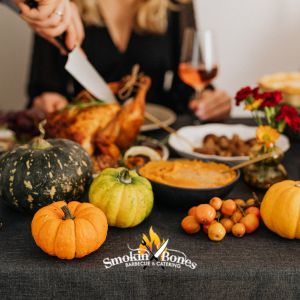 Depending on the size of your organization, you will likely have to determine who will be invited to your Thanksgiving lunch before you can organize your office catering in Toronto. Larger companies often divide events by departments or teams, whereas smaller businesses are more inclined to involve the entire company in one event. Based on your guest lists, it's helpful to get information on dietary restrictions for each person. You can do this by sending an email and creating a spreadsheet that can be used for future events and office catering. When you plan your Thanksgiving catering with Smokin' Bones, you can be assured that our team of expert caterers will accommodate allergies, food restrictions, and other critical dietary needs.
Customize Your Menu
Our caterers offer a wide range of menu options, so you can tailor the meal to suit the preferences and dietary needs of your team. For Thanksgiving catering in Toronto, most people include traditional Thanksgiving dishes like turkey, stuffing, and cranberry sauce, but it's an excellent idea to incorporate some vegetarian and vegan alternatives. You can choose from classic desserts like pie or explore your menu options at Smokin' Bones, including individually portioned desserts to satisfy everyone's tastes.
Decorate Your Venue
With the catering portion of your Thanksgiving event left in the capable and reliable hands of the Smokin' Bones team, you can use the extra time to get creative with your ambiance. If you're hosting Thanksgiving in the office, you can use decorations to elevate the experience, tables and serving tables to showcase a Fall ambience. Decorate with autumn-themed decorations like pumpkins, fall leaves, and centrepieces featuring seasonal flowers. Create a cozy atmosphere with soft lighting and background music that complements the holiday spirit. The right colour palette, warm lighting, and decorations will make connecting with your guests and co-workers much easier.
Choose a Trusted Office Catering Company
For the best Thanksgiving catering in your Mississauga or Toronto office, choose an experienced and reputable company. At Smokin' Bones, our catering professionals have years of experience preparing and serving high-quality and impressive Thanksgiving and Holiday meals. We understand the importance of being meticulous and prompt. Contact our team directly to learn more about our home and office catering services.