13
Dec
Tips for Catering a Festive Christmas Cocktail Party
The holidays are much closer than you think, leaving only a few weeks to plan, prepare, and treat your Christmas dinner catering in Toronto for your staff members. Christmas dinner catering is one of the easiest ways to provide food to your team and avoids issues with dietary restrictions, food allergies, or disagreements upon food preferences. At Smokin' Bones, we offer premium Christmas and barbeque catering so your employees leave feeling appreciated with their stomachs fulfilled.
Here are some tips for catering the best festive Christmas Cocktail party.
Plan Ahead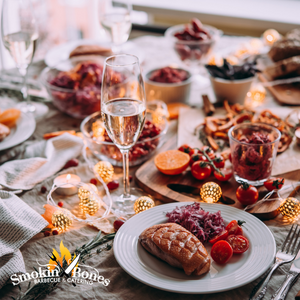 Planning ahead is one of the most important parts of organizing a good catering event. Not only does it leave room to complete other responsibilities, but it reduces additional stress that isn't needed. Planning ahead allows you to ask your employees if they have any dietary restrictions, allergies, or preferences when it comes to Christmas dinner catering. Whether you prefer barbeque catering or holiday menus, the professionals at Smokin' Bones have it all. Smokin' Bones caters to everyone, which is why we offer Kosher, Vegan, Vegetarian, Gluten-Free, and Dairy-Free options and always factor in any allergies. Choose from various menu options such as the "Season of Joy" or "Memphis Griller Deluxe" and enjoy delicious food served directly at your Christmas cocktail party.
Set Your Budget
When hosting a festive Christmas cocktail party, it's essential to also consider your budget. Since various responsibilities are associated with hosting an event, remembering to factor in your budget will save you stress and financial hardship down the road. It's crucial to not overspend on certain aspects so that you don't have to cut corners in others. With a clear budget, it's much easier to plan and organize your event without overspending. The experts at Smokin' Bones Barbeque & Catering value providing our customers with the highest-quality, most flavoursome foods, which is why we offer cost-effective catering menus and additions - so you don't have to break the bank to provide your employees with delectable foods and refreshments.
Find an Experienced Catering Company
When searching for a catering company that offers Christmas Dinners in Toronto, it's imperative to find reliable, trustworthy, and multifaceted professionals that you can count on. With other catering companies, food is provided for simplicity. But, with Smokin' Bones - we offer more than just catering. Our team of professionals knows that events aren't just meant for food; that's why we not only provide catering services but also serving, staffing, entertainment, sound, lighting, and more - so you can enjoy the perks of a universal catering company.
Christmas Dinner Catering
Start the holiday season off right with mouthwatering foods from the talented caterers at Smokin' Bones. With years of experience catering various events, our staff knows what it takes to provide the best meals and services to make your team feel valued this Christmas. Show your team how much you care by hiring Smokin' Bones for high-quality catering services.
Ready to enjoy a scrumptious meal? Contact Smokin' Bones for premium holiday catering services in the Greater Toronto Area.