13
Dec
Try Catered Sandwiches For Your Next Holiday Party in Toronto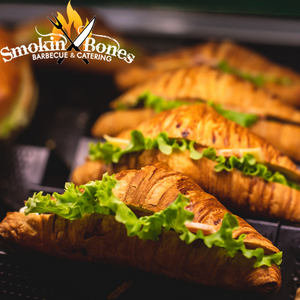 With the holiday season upon us, it's that time of year when companies begin scrambling to plan their annual holiday party. Organizing a holiday party can be a time-consuming task, which is why many people opt to hire catering services in Toronto. There's less cooking required, the venue can be taken care of, and the staff is provided for you. Smokin Bones BBQ catering services in Toronto provides an excellent alternative when preparing for a holiday party, especially if you are pressed for time. This holiday season, the entire preparation process can be simplified if you hire the right corporate catering company servicing Toronto and nearby areas.
Make Your Party Unique This Year
Most people are familiar with having a hot dish served at the office holiday party. This year why not step away from the traditional turkey, ham or veggies. Instead of serving your employees with a meal they're used to every year, choose a different type of catering service in Toronto, one that they have never had before, one that is convenient and offers a healthy selection that your guests will enjoy.
Our corporate sandwich platters are a great option! We offer tons of options for all types of people, events and budgets. There is no hassle or preparation necessary when guests receive the food you have selected.
Keep Your Party Germ and Mess-Free
A sandwich catered party is an excellent idea for the upcoming holiday office party. This is because it is easy to prepare, plus there is less mess and germs when you choose from our sandwich platters. Choose from our corporate sandwich platter packages or opt for our new germ-free option. We now offer catered sandwiches that come in individual boxes. Each box includes sandwiches, buttered rolls, a side sigh, and an optional dessert.
Office parties with catered sandwiches in Toronto are usually a nice change from pizza and bagels. Our sandwiches are delicious and can be made in so many ways. Contact Smokin Bones today to learn more.
Choose From Our Wide Range Of Corporate Sandwich Platters
How do you ensure that your employees and bosses are delighted with the food you have chosen? You have a few options, but one of the best is choosing a catered sandwich platter from us. A sandwich platter can be as creative as you like, from traditional breakfast sandwiches to gourmet hot sandwiches to healthy vegetarian options. Our delicious sandwiches have everything, so they appeal to a wide range of tastes and preferences.
We offer turkey, ham and chicken sandwiches; you can also choose vegetarian options like cucumber sandwiches. We offer a wide selection of bread for your platter, including jalapeno bagels, herb bread and classic baguettes.
Ease of Preparation
One of the most appealing things about using Smokin Bones BBQ catering services in Toronto is that the work is done for you. Unless you are an experienced cook, there is a good chance that you will struggle when organizing a large corporate event. Hiring holiday catering services in Toronto will eliminate all the stress associated with hosting a party. The corporate caterers will prepare everything from appetizers to desserts. Guests will have no choice but to enjoy themselves because all they have to do is show up.
Final Word
There are many things to consider when organizing a holiday party. You want to ensure that you have the best quality food, venue, and entertainment. If you're looking to avoid cooking and cleaning this season, and bring a unique twist to your holiday party, hire Smokin Bones Catering Services.