03
Sep
Why Choose BBQ Catering Services In Toronto This Thanksgiving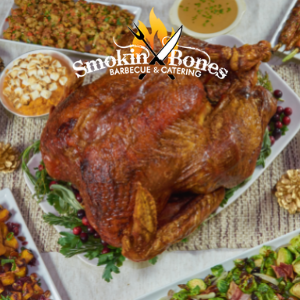 Sure it might only be September, but trust us Thanksgiving will be here before you know it! It feels like forever since we were able to gather with our friends and family, but this year we finally can! Of course, a larger gathering tends to mean a full day of cooking... Maybe even two.
Why not make this Thanksgiving dinner stress-free with catering services in Toronto from Smokin Bones? Make this year's Thanksgiving dinner one for the books. Enjoy a delicious, mess-free Thanksgiving dinner with the help of Smokin Bones BBQ Catering in Toronto.
BBQ Meals For ThanksGiving Is Popular In Toronto
When you are planning out your Thanksgiving dinner, one of the most important things to consider is what you are all going to eat. In the past several years, there has been a rise in the popularity of BBQ catering companies in Toronto and the GTA. One of the biggest factors driving this rise in popularity is the affordable Thanksgiving catering menus that many BBQ catering companies are beginning to offer. Check out Smokin Bones Holiday Catering menus here.
Thanksgiving Dinner For Everyone In The Family
Choose Smokin Bones BBQ Catering Services in Toronto to prepare a meal that is sure to please everyone from picky eaters to adventurous eaters alike. With 11 years of experience as Toronto's premier catering company, we provide barbecue catering for all occasions throughout the Toronto area.
Roasted turkey is often the centrepiece of a Thanksgiving meal. However, if you have a family that includes vegetarians or those with other dietary restrictions, we have you covered! We offer a wide variety of bbq menu options that mean no one will leave the table hungry.
A Mess Free Thanksgiving Meal
The best part of choosing to hire Smokin Bones BBQ Catering Services? No mess to clean in the kitchen!
As you know, this time of the year can be quite hectic. The focus is on doing your groceries and preparing meals for Thanksgiving Day. In other words, it's a bit messy to make it all happen!
Let Smokin Bones do all the cooking for you with our top-quality BBQ Catering Services and leave all of that hard work in the kitchen up to us! This way, you can rest assured knowing everything will be ready for Turkey Day. Don't have to spend your precious Thanksgiving day worrying about shopping or cooking, just enjoy it.
Contact Us For BBQ Catering This Thanksgiving
The holidays are the best time of year to treat your guests with a personal touch, and in this case, that means food they'll be talking about for years to come. BBQ Catering is a unique way to create an interactive atmosphere at your thanksgiving event. Our thanksgiving dinner menu options include a little something for everyone.
Our professional catering services make hosting any event easy. It's all about having the right team of people behind you. We have the expertise and experience to cater Thanksgiving dinner to any gathering. Get in touch with us today to learn more about our superior catering services in Toronto.
Read More About Our Thanksgiving Turkey Dinner Catering Services In Toronto